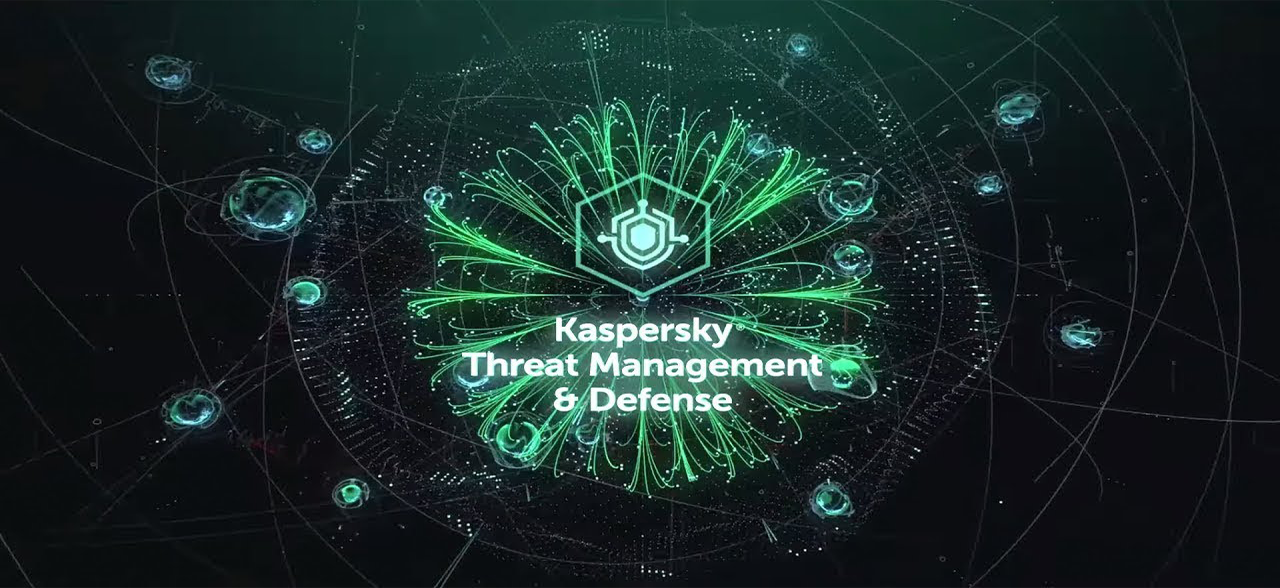 Kaspersky Non-Endpoint

Kaspersky Private Security Network
Kaspersky Private Security Network allows enterprises to take advantage of most of the benefits of global cloud-based threat intelligence, without releasing any data whatsoever outside their controlled perimeter. It's an organization's personal, local and completely private version of Kaspersky Security Network. This product is ideal for:
• Enterprises with strict data access control requirements
• Government agencies
• Telecommunications companies
• Manufacturers and utilities providers with physically isolated networks
• Critical infrastructures
• MSSPs and other service providers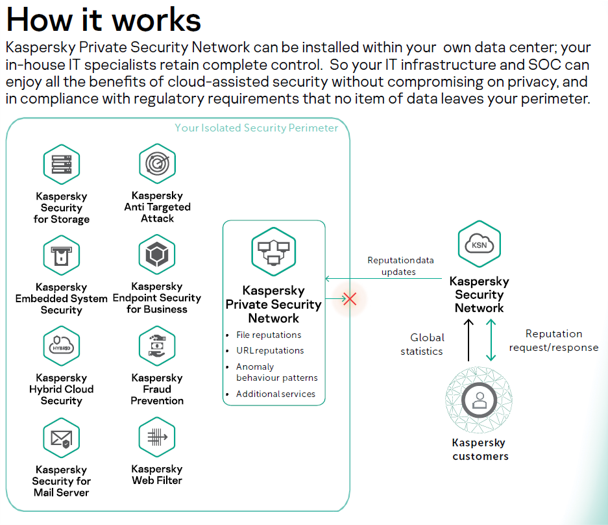 Kaspersky Endpoint Detection and Response (EDR) Optimum is a centralized automated tool that addresses advanced and targeted attacks in ways that make it easy on both your staff and your IT resources. Targeted and advanced attacks have become much cheaper and easier to undertake, which means it's no longer just nation states and huge enterprises who are in danger. Organizations who believed they were under the radar in terms of these attacks, now have to cover their backs and search out adequate protection – 91% of organizations have been affected by cyberattacks over the course of a single year, with 1 in 10 facing a targeted attack. The number of trained information security professionals you can hire and the amount of time they can devote to a specific task is not limitless. This isn't a new problem, but it's not going away on its own. Automating security tasks is one of the most effective ways to address this issue. Currently, 2 out of 3 organizations are suffering from a lack of information security personnel; and it's projected that by 2021 3.5 million cybersecurity jobs will be left unfilled. Then there are the IT resources required to run security solutions. Corporate IT budgets are often spread thin enough as it is. The answer has to lie in lightweight solutions, or those with minimal IT overheads.
Kaspersky EDR Optimum was developed to address the need for high-quality security against complex modern-day threats, in the face of limited resources. It's designed to be robust in detecting threats, proactive in responding to them, and practical in terms of day-to-day operations.
Kaspersky EDR Optimum adds enhanced visibility, root cause analysis capacity and automated response to existing strong EPP (Kaspersky Endpoint Security for Business), while utilizing the same agent. Data is gathered and analyzed from these hosts, and reporting, detailed incident information and response options on the incidents are provided via the Kaspersky Security Center console. Response to incidents can be either automated or 'single click'. Automated response is set up in order to respond to similar incidents on many hosts without human involvement, and is triggered after a self-created or imported IoC has been detected on those hosts. We've made Kaspersky EDR Optimum as simple to operate as possible. After deployment, your IT security staff only need to check the console once in a while, to process the incidents arising, perform root cause analysis and respond to incidents.

Kaspersky Threat Management and Defense comprises a unique combination of leading security technologies and cybersecurity services which are highly adaptive to the specifics of the organization and deliver a strategic approach, delivering unified processes for protection against advanced threats and unique targeted attacks.
Supporting the development or augmentation of your threat management strategy, Kaspersky Threat Management and Defense not only enables the automated collection of information and digital evidence, simplifies manual detection and automates Incident analysis empowered with machine learning, but provides rich pool of data to conduct complex incident investigation and supports you with the expertise needed to counteract even the most sophisticated threats. Everything is managed through an intuitive single interface, with business-oriented results presented in convenient formats through reports and dashboards.

Kaspersky Anti Targeted Attack Platform provides advanced threat detection across all layers of a targeted attack – initial infection, command and control communications, and lateral movements and data exfiltration.
i) Integrates with existing enterprise security
ii) Multi-dimensional Advanced Detection
iii) Automated prevention of advanced threats and comprehensive response
Kaspersky Endpoint Detection and Response
i) Adaptive Threat Response
ii) Proactive Threat Hunting
iii) Intuitive Web-Interface
iv) Monitor, Detect, Response & Prevention
The Kaspersky Threat Intelligence Portal enables SOC and IR teams to build a comprehensive threat intelligence workflow, by providing instruments and tools to automate and extend analytical capabilities for threat detection:
i) Kaspersky machine-readable threat intelligence allows integration with existing security controls including leading SIEM systems, firewalls, IDS etc., enabling faster detection times.
ii) Every detected threat can then be investigated in Kaspersky Threat Lookup and Cloud Sandbox. Historical data helps to interlink the information on various files, IPs, URLs, domains, hashes and threat names, revealing detailed intelligence data including whois, pDNS, GeoIP, file attributes, statistical and behavioral data, download chains, timestamps and much more.
iii) Our reporting capabilities can then be used to enrich existing technical data with descriptions of the associated threat actor TTPs , together with information on customer-specific vulnerabilities that can be exploited to compromise the network.

Kaspersky Managed Protection continuously hunts down cyberthreats to your organization. Your own 'crack team' of Kaspersky Lab experts, drawing on a deep pool of specialist skills and ongoing threat intelligence, delivers a fully managed, individually tailored ongoing detection, protection and investigation service, maximizing the value to you of the critical data generated by your Kaspersky Lab security solutions.
i) A continuously high level of protection against targeted attacks and malware, with 24×7 monitoring and support from Kaspersky Lab experts.
ii) The timely and accurate detection of non-malware attacks, attacks involving previously unknown tools, and those exploiting zero-day vulnerabilities.
iii) Immediate protection against any detected threat through automatic antivirus database updates.
iv) Retrospective analysis of incidents, including the methods and technologies used by threat actors against you.
v) An integrated approach – the Kaspersky Lab portfolio includes all the technologies and services required to implement a complete cycle of protection against targeted attacks: Preparation – Detection-Investigation – Data Analysis – Automated Protection.
Kaspersky Sandbox is an essential addition to Kaspersky Endpoint Security for Business. It automatically blocks advanced, unknown and complex threats without the need for additional resources, and frees up IT security analysts to focus on other tasks.
Kaspersky Sandbox harnesses our expert best practices in combating complex threats and APT-level attacks, and is tightly integrated with Kaspersky Endpoint Security for Business. It's managed from Kaspersky Security Center, our unified policy-based management console. The Kaspersky Endpoint Security for Business agent requests data about a suspicious object from the shared operational cache of verdicts, located on the Kaspersky Sandbox server. If the object has already been scanned, Kaspersky Endpoint Security for Business receives the verdict and applies one or more remediation options:
i) Remove and quarantine
ii) Notify user
iii) Start a critical areas scan
iv) Search detected object on other machines within the managed network.
Kaspersky Cloud Sandbox offers a hybrid approach combining threat intelligence gleaned from petabytes of statistical data (thanks to Kaspersky Security Network and other proprietary systems), behavioral analysis, and rock-solid anti-evasion, with human-simulating technologies such as auto clicker, document scrolling, and dummy processes. The result is an instrument of choice for the detection of unknown threats.
This service has been developed directly out of our in-lab sandboxing complex, a technology that's been evolving for over a decade. This technology incorporates all the knowledge about malware behaviors acquired by Kaspersky Lab during 20 years of continuous threat research, allowing us to detect 350 000+ new malicious objects each day and to provide our clients with industry-leading security solutions.
i) Loaded & Run DLLs
ii) Modified & Created Registry Key
iii) HTTP & DNS requests and responses
iv) RESTful API
v) Advanced Detection of APT
Kaspersky Secure Mail Gateway is an all-in-one solution that can help you tackle this complexity, offering a pre-built mailing system in the form of an easy-to-deploy appliance – for the price of security alone.
Delivering reliable protection for corporate email from mass and targeted phishing, spam and all forms of malicious attachment (with ransomware and miner Trojans currently demanding particular attention), Kaspersky Secure Mail Gateway is suitable for a wide range of deployment scenarios, on-premise or in the cloud.
Become a master of your business communications while protecting the business from financial, operational and reputational loss with the world's most tested, most awarded email security, conveniently packed for hassle-free deployment.
i) Real-time & on-demand Next-gen Anti-malware Protection
ii) Multi-layered protection against Business Email Compromise (BEC)
iii) Zero-hour threat protection
iv) Backed by global threat intelligence from Kaspersky Security Network
v) Microsoft Active Directory integration
vi) Quarantine management for emails and attachments
v) Takes care of embedded malicious macros and other objects
vi) Stops email-distributed ransomware and mining Trojans

Kaspersky Security for Windows Servers provides resilient next generation security for servers in all the many roles they undertake. For optimum cost-effectiveness, appropriate functionality can be enabled using different licenses, according to the type of task being addressed.
Kaspersky Security for Windows Servers is based on technologies that consistently attract analyst recognition, podium positions in independent tests and the appreciation of our customers. Independent confirmation that you can entrust your business-critical servers to us.
Kaspersky Security for Windows Servers is suitable for a wide range of server activities and usage types, including the protection of file servers, network storages and other key elements of corporate infrastructure, ensuring their smooth and safe functioning.
Kaspersky Security for Windows Servers is designed to protect both physical and virtualized servers, enabling you to run server workloads securely throughout your hybrid cloud infrastructure; on-premise, in the datacenter and in public clouds.
i) Next Generation protection against malware and more
ii) Shared folder and storage protection against crypto-malware
iii) Exploit prevention
iv) Systems hardening
v) Systems integrity
vi) Traffic security
vii) Terminal server protection
viii) Windows Firewall management
ix) SIEM integration
ENQUIRE NOW